This year, the Corum list of top strategic acquirers was far more dynamic than the Private Equity list, which remained largely stable.  We saw the first entrance from Chinese giant Alibaba, a major roll-up from J2, and, for the first time, Constellation Software at the top of the heap with over 32 completed deals. 
Their hybrid approach to acquisitions is a textbook example of M&A's new wave of buyers: PEs that act like more and more like Strategics and Strategics that act more and more like PEs.  That blend of traditional approaches shot Constellation to the top of the strategic acquirer list.
Constellation Software Subsidiaries
One of the keys to their ability to act like a PE buyer is the galaxy of companies that operate within Constellation's software universe.  Instead of making all of the acquisitions through one company, subsidiaries make almost of the purchases.  This allows each subsidiary to be a little more focused on specific areas for software and allows for a focus on companies that fit together in the individual portfolios.  So, it is only fitting that we profile a few of Constellation Software's 32+ deals by the portfolio company that completed them. 
Volaris Group
Echoing the overall corporate strategy, Volaris Group's buy-and-hold-forever model means that when they purchase a company, they hold onto that company for life.  Instead of fitting each purchase with a 'one-size-fits-all' strategy, Volaris Group adapts the approach it takes with each of their companies depending on their setup and needs.
Their 2017 deals touch on several of Corum's Top Ten Disruptive Technology Trends – particularly Smart Logistics, with Volaris entering the space from several angles throughout the year.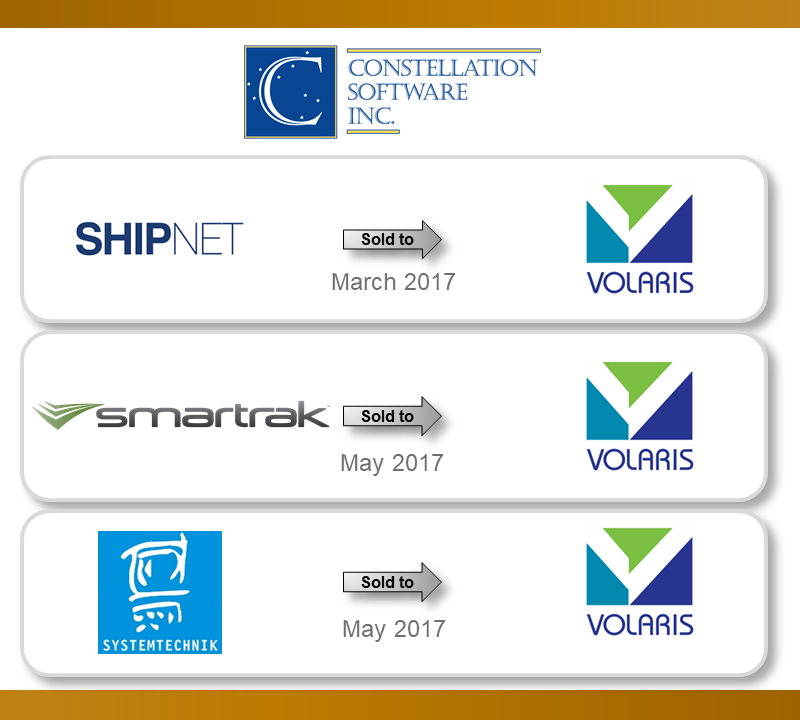 Featured Deals:
ShipNet A/S [March 2017]
Smartrak [May 2017]
Systemtechnik GmbH [May 2017]
 
Harris Computer Systems
Harris Computer Systems focuses on utilities, public sector companies, and healthcare, which leads them to place more emphasis on the value of leadership and the relationships between companies.
Their 2017 deals reflect this, with many companies working to create more seamless relationships between people and their healthcare, industrial, and utilities companies.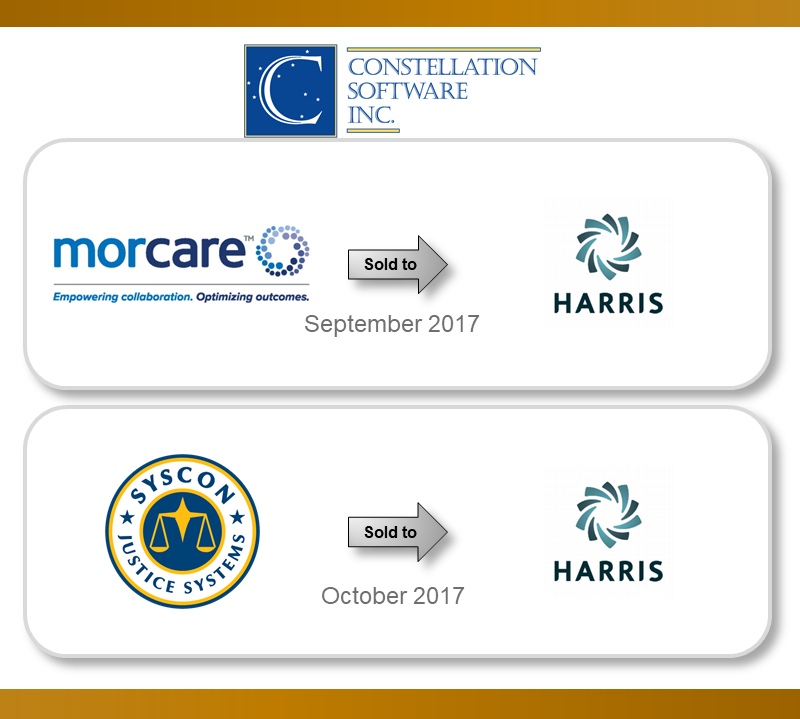 Featured Deals:
MorCare LLC [September 2017]
Syscon Justice Systems [October 2017]
 
Jonas Software
Jonas Software is focused on future growth for the companies it acquires.  The goal extends beyond companies to their individual employees.  To match, they also acquire in very people-oriented sectors, like hospitality.  2017 saw several acquisitions in that and other arenas, including retail and facilities management.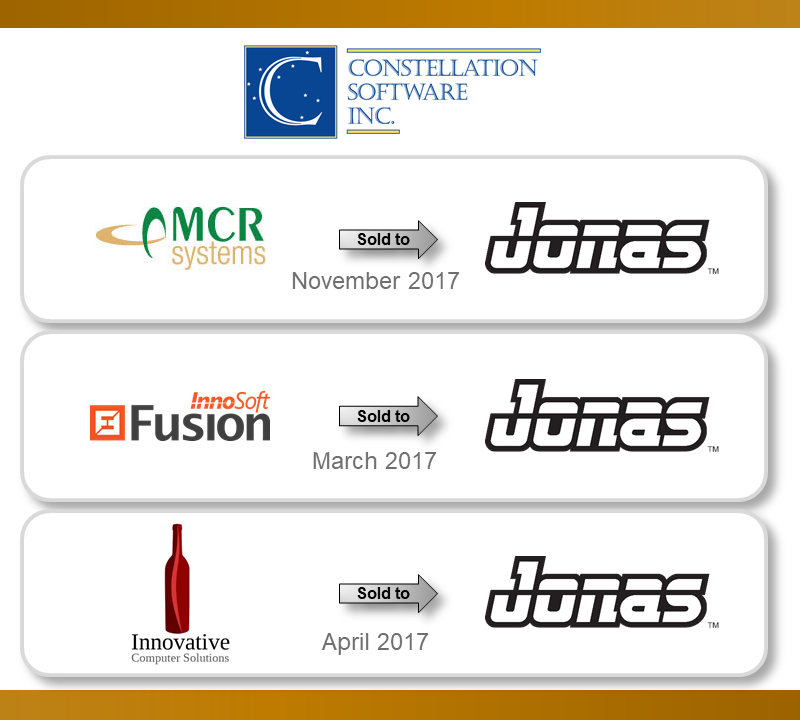 Featured Deals:
MCR Systems [acquired in November 2017, with MCR Enterprise Solutions Ltd. acquired in October 2017]
InnoSoft Canada [March 2017]
Innovative Computer Solutions [April 2017]
 
Vela Software
Unlike some of the other subsidiaries that are under the Constellation Software umbrella, Vela tends to operate as a coach for the companies that they have purchased, focusing on their growth and only acquiring those that fit within their portfolio and expertise in vertical markets. 
Other Subsidiaries
Perseus Operating Group
Perseus Group is smaller than other subsidiaries and more directly integrated into Constellation Software. That connection means its purchases are tied more directly to Constellation's overall goals.
Total Specific Solutions
TSS is a subsidiary that operates outside of North America, focusing on government, healthcare, retail, finance, and a few other verticals.  Yet, within it there are 40 other Constellation Software companies.  With that reach, TSS can take a longer view. 
Conclusion
After a strategic acquirer makes 32+ deals in a year, you might expect it to slow down.  And, if you were expecting that for Constellation Software, you'd be wrong.  The company has actually completed more deals in Q1 2018 than it did during the same period in 2017.  Constellation has completed six deals in 2018 so far – through six different arms and subsidiaries: Constellation Real Estate, Jonas Software, Harris Computer Systems, Volaris Group, Quantitative Medical Systems, and Vela Software International. 
Those acquisitions stretch across vertical markets and the world at large, covering everything from a Croatia-based software development firm to a Canadian real estate marketing SaaS platform and Corum client, Infian, a dialysis EHR management company that, as part of QMS (Quantitative Medical Systems), is now the leading dialysis software provider in the United States.
To discuss their eventful quarter, their relationship with Corum, and what sets them apart as a buyer, the Constellation Software COO (who is also the current CEO of Volaris Group) will join our Tech M&A Monthly webcast on April 12th.  During that webcast, we'll also break down Tech M&A in the first quarter at large, covering key deals, trends and valuation metrics across all of Corum's six sectors and 30 subsectors.  To hear it all first-hand, register here.