As the lines between hardware and software continue to blur, enmeshed systems has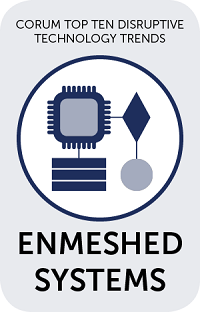 solidified its place as a Top Tech Trend. 
Complex systems of enmeshed hardware and software enable many other leading trends and new tech, including the IoT, autonomous vehicles, connected health and more. Software replaces hardware, and then vice versa across multiple cycles, and these cycles drive deals.
A notable trend has been chipmakers acquiring software companies. Two deals in May of this year exemplify this—in both cases, top chipmakers bought pioneers in the computer vision space, where deep hardware/software enmeshment is a must. ARM spent $350M on the UK's Apical, while one week later Intel acquired Russia's Itseez for similar technology. Corum took a closer look at the market for this kind of tech in the WFS Connected Car Market Spotlight.
Companies successfully tackling similarly complex problems in this sector can expect to see interest from suitors like these.