Last week, we reviewed our tech M&A predictions for last year. Now, let's look ahead to what's in store for tech M&A in 2016. After polling Corum's staff around the world, we assembled the following as our top predictions for this year: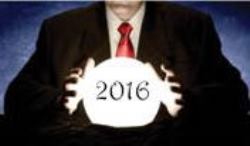 1.       Vehicles, not houses or cities, become the central hub of the Internet of Things—driving a global M&A wave with multiple megadeals.
Based on interaction we're currently having with major technology companies, this prediction is already coming true, and we see this trend driving significant IoT investment and M&A this year. In fact, we're participating in a Connected Car Market Spotlight webcast on February 23 to examine just this topic.
2.       Food ordering & delivery apps integrated into gaming & social media.
      If you've played long enough to be hungry, that pizza may just show up at your door.
3.       Asian Internet giants acquire strategic European travel sites and services.
We're seeing some interesting things happening globally in the travel sector, and we're certainly seeing smart Chinese firms making global investments.
4.       Consumer traction in entry-level VR driven by immersive sports and viral videos—not games.
You'll want to keep an eye on this one. Many of you subscribe to the New York Times and got to play with the Cardboard, and you can see what's possible there for immersive documentary and viral videos.
5.       Apple makes a major acquisition in the IoT or Enterprise space.
Apple has increased its M&A activity in recent years, as well as making stronger IoT and Enterprise pushes. We expect those trends to eventually combine for a notable deal or two.
6.       Private Equity acquires an underperforming public Internet company such as Groupon, RetailMeNot or Yahoo.
With over $3 trillion to spend, it seems inevitable that PEs will take advantage of the divergence we're seeing in Internet valuations. Twitter is another, longer-shot candidate for this kind of acquisition.
7.       Booming Indian product M&A doubles, including at least one megadeal.
If you watch the regional portion of our 2016 Annual Report to see what happened in India last year, you'll see that this one looks pretty solid.
8.       Drone software M&A takes off, with image processing and analytics at the forefront.
With both consumer and commercial drones getting more popular, and with the possibility of shipping by drone a no longer a daydream, the differentiators that can be provided by this kind of deep tech will prove attractive and even necessary to drone hardware providers and others.