​Technology is changing the consumer shopping experience in more ways than we could have imagined just a few years ago. Transactions are being made on the computer, over the phone, on mobile apps – chances are you've made a purchase through each of these channels already. For now, consumer brands are leading the way for omni-channel sales, but enterprise is not far off.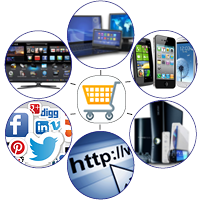 ​ The trend of Omni-Channel Sales got a major boost this year via megadeals, with Salesforce acquiring Demandware for $2.8 billion, bringing seamless ecommerce and sales integration into the CRM world. Microsoft is moving in that direction, with the acquisition of LinkedIn pushing downstream its ability to offer more targeted sales enablement in its own CRM system and beyond. This is a trend showcased by the consolidation of CRM integration services we saw in the first half of this year.
If you can show immediate return on investment by leveraging personalization through an underserved but important channel (like Mobile, for example), you could be rewarded handsomely by the market.