Dear M&A Client:
I know you are considering the list of Private Equity firms that I recently provided.  Given your lack of immediate response,  I surmise there may be differing opinions internally as to whether we should go to the PEs at all. As I've had extensive recent experience from multiple transactions, I wanted to offer some observations.
1)     One client was most adamant about only approaching strategic buyers for several reasons.
a.    He had always wanted to be acquired by a large player like Microsoft or SAP, as a way to publically confirm the value of what he had created.  He felt that would look good on his resume.
b.    He believed he could get a higher value from a strategic buyer than from a PE
c.    He had historically received so many inquiries from the PE's that he questioned why he needed Corum to do a deal with a PE
2)     As it turned out, we did receive many inquiries from strategics, but never the kind of strong interest we expected, given the lack of a "perfect fit" so many buyers are seeking.
3)     The Private Equity players did step up strongly, as we were able to quickly create an auction environment and a staged process.
a.    The PEs are fulltime deal makers with money to spend, and anxious to invest
b.    PEs can use leverage which allows them to be more aggressive on valuation, as they are playing with borrowed money
c.    The PEs outbid the strategics, and then worked to outbid one another
d.    The seller found going with the PEs would be much less disruptive to the business.  The PEs need the existing team and are not going to try to consolidate with another office.  Pretty much status quo going forward from view of employees, customers, vendors.
e.     PEs will only offer cash, and not other types of consideration, which from a strategic buyer can include stock which may or may not be restricted or tradable.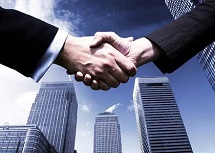 f.     PEs can do a 100% buyout, or allow sellers to retain some equity if desired, and enjoy some further upside potential. ​
For what it's worth. 
Ward
---
Footnote:  Before any small companies get excited about Private Equity, understand there may be minimum revenue and EBITDA thresholds in order to qualify.  And, results may vary.