This week, Alina Soltys and I have been down at the annual Gartner Data Center Conference in Las Vegas. While its covered a broad range of topics from enterprise mobility to software defined networking and the future of the mainframe, the overriding message is that it's time for the data center to get smarter. 
With so much technology disruption over the last 5 years occurring at the business level, IT infrastructure and operations (IO) has had little opportunity to catch up. In many cases the response has been just to spin up a new server every time a business group requested a new service, which given the low cost of new servers made some sense.  However, as those investments are starting to hit their 3 and 5 year refreshes, a better picture of their total cost of ownership has come into frame.  And the results are not universally positive as many companies have discovered an average data center utilization rate of just 8%. Although no one said it directly, my sense is that many IO organizations have overbuilt themselves in haste to keep up with business demands.
According to Gartner, the answer going forward will be the intelligent data center which it defines as a dynamic model based upon business needs and requirements. This broad concept seeks to move beyond the current siloed approach to data center, with unified orchestration for all business needs and a rich data center infrastructure management layer to optimize resource utilization.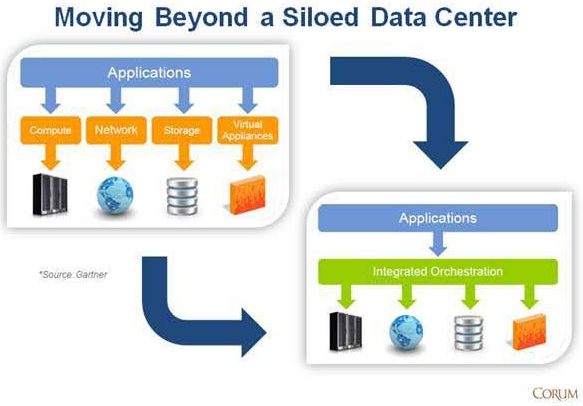 The exciting part of all this is that even the big 4 IT operations management providers—BMC, HP, CA, and IBM—each of whom are making a billion dollars or more annually managing data center deployments, don't have all the pieces yet and are scrambling to keep pace with their customers' demands. One of the fastest ways for these guys to add that functionality is through M&A, which we believe will continue to fuel strong exit opportunities for software companies doing anything related to, or in, the data center.