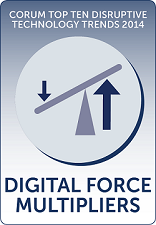 Our client Campus Special began as a traditional hard copy coupon book provider serving college campuses. As technology and customer behaviors changed, Campus Special changed with them, integrating a top-rated mobile app and online food ordering service. That caught the eye of Chegg, who are moving aggressively into acquiring subsidiaries in the coming months. This is an excellent example of an acquisition driven by a digital force multiplier.
Digital Force Multipliers are one of our Top Ten Trends to watch this year, and it refers specifically to internal development of software and tools to directly address customer technology needs. The company's market force is multiplied, sometimes exponentially, and their value can be, too.
Naturally, these companies draw substantial interest from buyers seeking growth, and there are three key benefits: increased revenue, an innovative technology stack, and an employee base accustomed to using technology to drive results. Buyers look to leverage that technology to drive fast, dramatic growth.