In a recent trip to Colombia, I had the opportunity to present current M&A market information to a large number of entrepreneurs in Medellin and Bogotá. In partnership with BD Guidance and the Colombian Ministry of ITC Innovation, ProExport, we spent multiple days working with the Colombian tech entrepreneurs in a series of growth & exit strategy seminars.
Like several of the other LATAM markets, Colombia is undergoing a tremendous amount of economic, social and cultural expansion – overtaking Argentina for GNI and outpacing Brazil for YoY GDP growth rates. As the gateway to South America, Colombia has positioned themselves as a leader among the Pacific Alliance states, and the 2nd largest Spanish-speaking population after Mexico.
Despite being listed as one of the world's most biologically diverse nations, perhaps more importan​tly is the focus on technology and innovation as the primary growth mechanisms for this new and dynamic economy.  The government is setting aside a percentage of state-based taxes to contribute directly to advancements in technology and innovative learning. Because of this, startups in the region are able to quickly and easily form privately held companies using government grants and tax-free zones.  With the highest skilled labor pool and highest % of new engineering graduates per capita in LATAM*, they are also able to rapidly pull together the talent needed to scale their businesses. Lastly, Colombia as a center for IT has doubled their revenues in just the past 5 years – today accounting for nearly $8B USD on balance sheets**.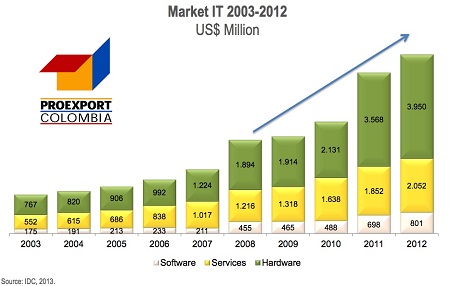 *IMD World Competitiveness, 2013
**IDC , 2013