The Global Leader in Software M&A

Infrastructure
Infrastructure software companies sell the "plumbing" needed to operate, control, manage and protect the computing resources on which businesses of all types rely. Infrastructure software covers application enabling technologies for companies of all types and sizes. The category includes: system management software, network management software, virtualization, storage software, backup/recovery software, security software, VoIP and software development tools.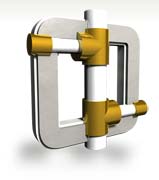 Transactions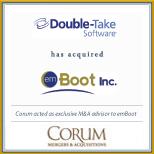 emBoot acquired by Double-Take Software
emBoot, Inc., a Canada-based provider of network booting technology
Double-Take's acquisition of emBoot supplements Double-Take's full system expertise with solutions to power dynamic and green IT infrastructures.
"emBoot provides network boot products that significantly reduce the cost and complexity of administrating servers, desktops, POS terminals and embedded systems," said George Kostiuk, CEO of emBoot. "We are excited about joining the Double-Take Software team and contributing to the development of tools that allow our customers to liberate workloads, and reduce hardware and power consumption as they move to a more dynamically managed infrastructure."
The technology acquired with emBoot allows organizations to easily assign and re-assign computing workloads to any available Windows or Linux physical servers or desktops or any virtual machine in their environment.
Announcement Date: August 26, 2008
Deal Value: Undisclosed